By the title you must have already guessed that I am going to answer the question of why you should invest in SEO in 2020, and in the consecutive years after this.
I've wanted to write about this for a long time, but before continuing, let me put you in a situation.
Let's say you have any business that works mainly offline, or you are starting a new company.
The point is that you want to extend your venture to the internet, because you have been told that online sales are the future, or, rather, they are already the present.
The problem is that you have a limited marketing budget, and you don't really know where to put the money.
All this Digital Marketing is new for you, and most of the agencies that you consulted recommend that you invest everything in advertising on Google Ads and Social Networks.
Be careful with these types of recommendations.
Paying for advertising is not bad, I have to say, because you get commercial results very quickly. However, if your entire Digital Marketing strategy revolves around paying for ads, your long-term profits could suffer.
That is why I recommend that you invest a considerable part (not all) of your marketing budget in positioning your website in search engines.
In this article I share with you a list of well-founded reasons so that you know why you have to invest in SEO from now on, if you want your income to skyrocket.
SEO is a great support in brand management
Pay attention to this phrase: YOUR LOGO IS NOT YOUR BRAND, YOUR PRODUCT NEITHER .
I'm not going to dwell on this too much, because later on I plan to write a very complete article about what a brand is, and how to get the most out of it.
But it is important that you have a clear concept of the brand, and why SEO is directly related to its management.
A brand, the brand of your company , actually rests on the experience that audiences live when they interact with you or with your offer. The name, the logo, the slogan or other elements like that, are just a part of the brand.
Just an example before moving on to the topic that matters to us.
When you go to a Starbucks and buy one of the most expensive coffees in the world, you do it for many different reasons, but not because of its LOGO , nor because of the PRODUCT itself.
You pay for the EXPERIENCE , which ranges from the instagrammable nature of coffee shops to the status it gives you compared to those who settle for a simple McCafé.
But… Where does search engine optimization come in here?
Well, through the content that users find on Google. It is not the same that a potential client who is looking for you on the Internet discovers valuable and positive information about you, that you do not appear; or worse, that it finds contents that damage the image of your company.
You only exist on the Internet if you are in the top-ten of searches
A few years ago, when the Internet was developing, the phrase "if you're not on the Internet, you don't exist" was repeated a lot . Soon companies began to publish corporate websites because they wanted to take advantage of "existing" in the network of networks.
Currently the number of published websites is so large that it is impossible for any user to review all the results for a specific search.
In fact, there are studies that confirm that 90% of users stay on the first page of Google.
This means that if you do not appear within the first 10 results (top-ten) of the search engine, you practically do not exist. Here's a good reason to invest a portion of your digital marketing budget in SEO.
I'll go one step further. According to a study conducted by MOZ in 2014, the top 5 results in the SERPs took 67.60% of clicks. Since then things have changed little, but not for the better.
In short, if your website never appears in one of these positions, it is as if it does not exist at all.
Currently you can check how the CTR behaves in the different SERPs using this wonderful tool: CTR Study
Those with more mischief will tell me: If I invest in advertising with Google Ads I will be above the organic results . In position yes, but keep reading I have some interesting news for you on this.
Organic results inspire more confidence
I recently read an article on Sparktoro where they analyze the increase in CTR due to the growth of zero click searches. SEOs are concerned about this issue, but I'm not going to stop at that.
What I want you to analyze is the following graph.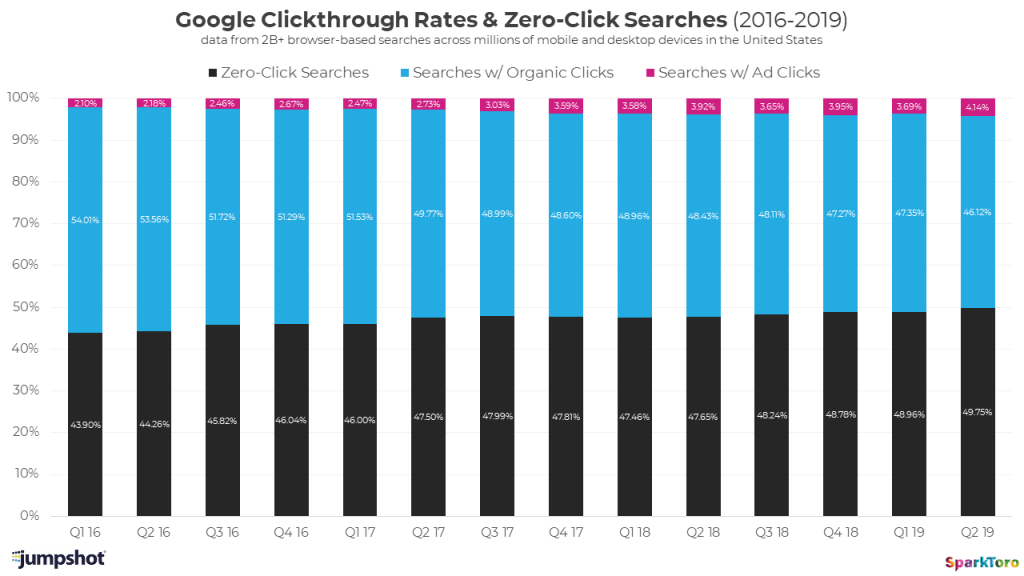 What you're seeing means that of the total number of times a results page is printed on Google, only 4.14% of the time (in 2019) users click on the ad.
The rest prefer to enter organic results, or do not click on any results. The latter may be because Google gives them the answer directly, or that none of the results convinced them enough.
If you look at the years in the graph, you can see that the trend has remained stable from 2016 to the present day.
The most curious thing is that this information is not told "conveniently" by the consultants or agencies that want you to invest your entire budget in advertising.
NOTE: It is true that Google has been making changes to the SERPs to ensure that the ads differ less from the organic results, and thus increase clicks on advertising. Even so, clicks on organic results are several times higher than clicks on advertising.
Why this difference in clicks between paid results (advertising) versus organic results (SEO)?
The answer is simple: people tend to distrust advertising, believing that the sole intention of advertisers is to profit at their expense.
Instead, they rely on organic results as they appear "natural." They click more on the places you can occupy by investing in SEO.
Make the investment in your website profitable
Publishing and maintaining a website is not free, and almost never cheap. In fact, many corporate websites are nothing more than "pretty" online business cards that the CEOs of those companies threw their money on.
If we compare the digital world with the analog one, a website that does not receive online traffic is the same as a display case that was placed facing an interior corridor where no one passes. In other words, it is a total waste of time, effort and money.
A Good SEO strategy can correct this situation.
On the other hand, a considerable part of SEO actions fall under what is known as SEO OnPage , that is, they are carried out on the website.
This is because many of the guidelines published by search engines guide webmasters to implement good web development practices.
I say this as clearly as possible: when you invest in SEO, most of that investment is made in your own digital channel . In other words, your website is highly valued, both for Google and for the users who visit your online showcase .
You can beat the competition on the internet
When you search the Internet for information about the products or services you offer, 99% of the time you will find others who are offering it too. This is not bad, on the contrary, in all healthy businesses there is competition.
If you see your competition on the first page of Google it is because they are probably already investing in the positioning of their websites or e-commerce .
They have understood that investing in SEO is a wise decision.
With a properly implemented SEO strategy you can reach a significant part of the available market, beating your competitors.
Of course, I'm not just talking about showing up first than them on Google, but about exceeding the business goals you've set for yourself.
Align your strategy with the needs of your audiences
Every search engine positioning strategy begins with three actions that trigger the rest:
The first is an audit of the website , to identify the necessary improvements or optimizations.
The second is a keyword research related to the business, or thematic that the web covers.
Third is an analysis of the SERPs in which you want to position your content.
These actions are focused on the user, who is ultimately your potential client.
I am not going to dwell on the subject of auditing because I plan to write a detailed article on this issue later. But you should know that the audit is VERY IMPORTANT because of the three pillars that make up modern SEO (as I understand it) two are materialized by working on the web.
Let's talk about keyword research.
Without a study of keywords, it is not advisable to work on search engine positioning, for a simple reason, it is not worth being first for a query that no one consults.
With keyword research , the aim is to "know" what users are looking for, and thus discover what their needs are.
Instead, SERP analysis helps us find out what kind of content Google is satisfying users with for those specific searches.
To close this point, the advantages of placing business and marketing decisions based on meeting customer needs are more than known. The SEO done right , is always aligned vision of marketing in which everyone wins .
Avoid penalties from Google or other search engines
Possibly when you read the word penalties the first thing you thought was: Google is not going to penalize my website, because I did not do anything wrong .
It is a logical way of thinking up to a point, but only up to a point.
Penalties are not always the result of aggressively applying techniques discouraged by search engines.
Sometimes, not trying hard enough to do things right can be a reason for penalty, or at least, loss of ranking.
For example, it was a perfectly valid, albeit questionable, practice long ago to over-optimize keywords in texts.
Of course, (and luckily) the engineers concerned about the quality of the results in their search engines, and seeing how they were being manipulated, penalized all the websites with a clear pattern of keyword stuffing .
The point here is that there is NO exact measure of the number of times you can use specific words or phrases in a text.
This means that, in terms of content optimization, the border between correct and incorrect is very blurred.
NOTE: When you notice that you have over-optimized a text it is because (probably) you have gone three towns.
Something similar happens with questions that were previously advisable, and today are essential. If your website is not secure, it will cost you more to climb positions in the search engine, or even, you may never succeed.
To summarize this point: SEO is, to a large extent, keeping your website up to date with the good practices recommended by search engines. SEO is doing things right .
Increase in qualified traffic to your website
Many people think that the purpose of web positioning is to get first in Google, or other search engines. It is a reductionist view and to some extent wrong.
Coming out first for a specific set of searches is just a necessary condition for achieving the true job of SEO.
The purpose of SEO, at least I consider it that way, is to attract qualified traffic to the web with the intention of achieving certain objectives.
By qualified traffic we must understand the largest number of users who have an interest or need that we can satisfy.
If you have a digital store and you sell personalized T-shirts with rock group arts, the ideal is to attract people interested in purchasing this type of product. Your goal is to sell, and you will only achieve it if the users who arrive buy.
I always say that SEO is not only about occupying first places in Google. Sometimes, depending on your goals, you don't even need to pull a lot of traffic.
If the objectives of the web are met, although we attract few visitors but who convert and leave satisfied, we can say that the positioning has been a success.
Positive impact on investment in digital advertising
I warn you, this part is going to be very interesting, so I suggest you read carefully.
It is possible that someone has gotten the impression that with this article I am looking for entrepreneurs to renounce digital advertising, based on investing in SEO.
I want to warn that this idea, if any reader thinks about it, is wrong.
What I defend is that you should allocate a considerable part of the budget to work on search engine positioning, without abandoning your advertising promotion system.
That is, the idea is not to change one strategy for another, but to complement different strategies , all focused on the same objectives .
With this clarified, I go on to develop the following reason why investing in SEO is the best decision you can make today.
SEO, in addition to generating organic results, also helps to optimize the budget for Google Ads.
But … is this possible?
If possible.
All ads pay different amounts of money to Google. According to the documentation, the place that an advertisement occupies and the cost it generates depends on the RANKING OF THE AD.
This ranking is organized according to several factors, including "the relevance and usefulness of your ad, and the website to which it is linked, for the person who will see it . "
NOTE: You can read the entire reference in the following link: About the position and ranking of the ad
I explain. Google evaluates the quality and relevance of the destination lading page , yours and that of your competition. Then, you put the focus on this and other factors, organize the advertising and decide how much you charge each advertiser.
Considering this, a scenario in which your advertising comes out before your competitors, and you pay less than them, is totally possible. Praise the SEO that cares about the quality and relevance of your website .
SEO has a very positive ROI
Surely you already knew that ROI is the acronym for Return On Investment.
This variable, if it can be called that, establishes the relationship between the benefits obtained and the investment made to achieve them.
It is very important to observe the ROI of all our Digital Marketing actions, as this metric informs us about the return we are obtaining from our investments.
Imagine that after implementing a certain marketing strategy your income increases by 2 million pesos.
Amazing! truth?
Well, it depends.
If you had to invest 3 million to reach that level of turnover, then you actually lost money.
SEO is one of the disciplines of Digital Marketing that contributes the highest ROI. When you manage to position an attractive content for a keyword of interest and with many searches, you will begin to bring traffic to the website in a stable way.
Also, keep in mind that, if for any reason, you have to abandon your SEO strategy, the results that you have achieved up to that moment last, at least, for a while. This is not the case with advertising, if you stop paying, you disappear from Google.
Summary: 10 reasons to invest in SEO in 2021
We come to the end of this mega article.
The same thing always happens to me, I want to write a short text about a specific topic, but in my eagerness to share all my knowledge with you, I extend myself and end up typing more than 2500 words.
This time I tried to explain why it is a good decision to allocate part of your budget to SEO. I put all the reasons together below, so you can take a look before you go to read other articles.
The 10 reasons to invest in SEO an important part of your marketing budget for 2020:
SEO is a great support in brand management.
You only exist on the Internet if you are in the top-ten of searches.
Organic results inspire more confidence.
Make the investment in your website profitable.
You can beat the competition on the internet.
Align your strategy with the needs of your audiences.
Avoid penalties from Google or other search engines.
Increase in qualified traffic to your website.
Positive impact on investment in digital advertising.
SEO has a very positive ROI.
After reviewing the list, if you think I am missing a point, leave me a comment and I will gladly add it to the list.
Do not forget to share the content on your Social Networks, or send it to an entrepreneur friend who you think has problems with the performance of their Digital Marketing budget.
If, on the other hand, these reasons convinced you and you decide to invest in SEO, get in touch with me right now.
We can start with an audit, and from there set the positioning strategy that will help you improve the results of your Internet business.