Are your marketing strategies not generating the results you expect?
Unfortunately, one of the main reasons why many marketing managers do not achieve results with their digital strategies in their companies is due to the lack of a digital marketing plan .
So … if you want to have results this year with your digital strategies, start with a digital marketing plan in 2021.
Many companies make the mistake of doing digital marketing without having a well-defined plan and objectives . They launch into the digital world by creating profiles on social networks, investing in digital advertising or paid ads, writing content for the blog, etc.
Getting started in the digital world without a plan will lead to wasting time and money. In addition, it is important that you dedicate time and effort to a correct planning of the digital strategy so that you have results.
Not having well-defined objectives and an action plan to achieve them is like navigating a ship without direction.
As they say out there "he who does not know where he is going, any path will serve him . " And this translates into a waste of economic resources for companies.
Do not worry if you do not have an online marketing plan , in this guide you will learn step by step to do yours, you can also download our template for free so that you can adapt it to your company.  
what is the digital marketing?
Before we start, let's first define what digital marketing is and why it is so important for the growth of your company.
Well, digital marketing, also known as online marketing, online marketing or digital marketing, is the radical evolution of marketing thanks to new technologies and the popularity of the internet.
This new marketing allows companies of any size to publicize and promote products or services through different digital strategies to achieve business objectives.
What is a digital marketing plan and what is it for?
A digital marketing plan is a written and structured document that specifies the strategies, tactics and actions to achieve the objectives that have been set in the company.
This document details the tools, the budget and the schedule that must be carried out so that no action is left out.
What we must be clear about is that a marketing plan should not be something improvised in any way.
For this plan to be successful, the marketing objectives must be aligned with the strategic objectives of the business , in this way, all the actions that are carried out will contribute to the achievement of these objectives.
Benefits of creating an online marketing plan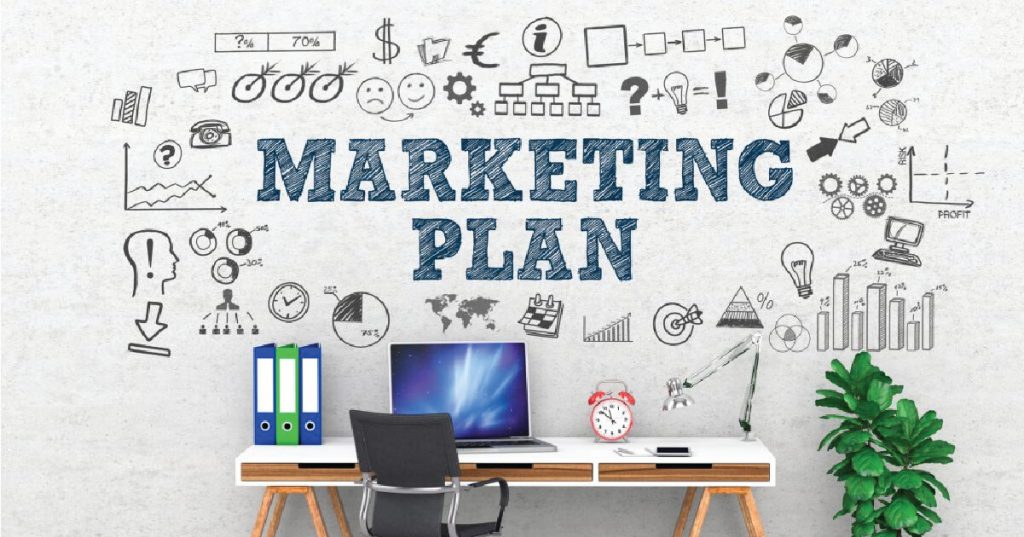 If your company already has a digital presence or is just starting on the internet, having a digital marketing plan is essential, that is, yes or yes, you must have it. This is what separates successful companies from those that are not.
The benefits of having an online marketing plan turn out to be very positive for companies that take this work seriously. Here are some benefits:
You will have a global vision of the needs of the market, your competitors and your current situation.
It allows you to identify who you are addressing and why you are doing it, but also to know how to help your potential customers.
It is a roadmap so as not to deviate from the path.
You will invest the marketing budget well with a clear return
It allows you to measure and check what works and what does not within your Digital Marketing strategy.
What should your online marketing plan include

A digital marketing plan should not be a tedious document with dozens of sheets that no one will read. It should include everything necessary so that everyone in the company can align and understand where the efforts are going. An online marketing plan should have the basics:
Your business mission and value proposition
A detailed description of your target market – ideal customer
A current assessment of your digital marketing (strengths, weaknesses)
Analysis of the strongest competitors
The budget for digital marketing
Sales and customer acquisition processes
The action plan and the strategies per channel within the online presence
Promotions and offers strategies
How to make your strategic marketing plan
Here are 7 steps with which you can make a strategic marketing plan for your company.
Step 1 – Define your business model
A business model is an analysis tool that allows companies to know who they are, what they do, how they do it, at what cost, with what means and through what sources they generate their income. Defining your business model is knowing what your DNA is.
Why do we touch on this topic before making the marketing plan? good, because first you must validate that your business idea is going to generate value for your customers and partners. If your business model is not viable, everything you do from then on will be a complete mistake.
If you don't have a business model yet, we recommend learning about the Model Business Canvas methodology   .
Here's an example of what the Canvas canvas should look like for a business.
Step 2 – Conduct a situation analysis
To make your digital marketing plan it is important in this step to carry out an analysis of the situation of the company with aspects related to:
What the company does
Where do you want to be
How is the environment where it operates
Who is the competition
How is the online marketing situation,
etc.
Review your vision, mission and strategic objectives
Although this point is part of the strategic planning of your company, it is important to first understand the business to align the objectives of the digital marketing plan with the objectives of the company. For this, we are going to review the following:
Company vision: At this point we identify where the company wants to go in a certain time. That is, what it looks like in 3 or 5 years.
Mission: Here we understand the purpose of the company; what it does, why it does it and for whom it does it.
Strategic objectives: In our marketing plan we must align the digital marketing objectives with the objectives of the company. This in order that the efforts made from marketing generate an impact on business results.
Analysis of digital assets
If your company has already implemented online marketing strategies , it is important to review what has been done so far. For this, we are going to analyze it in 7 important points:
Website: the website is the main asset of digital marketing, therefore you should review some aspects such as: do you have a blog, does your website have forms to capture data, in which CMS the web is made (WordPress, wix, Joomla) , fast loading, is it optimized for all devices?
Contents: Is the blog updated, is there an editorial calendar, content plan, downloadable materials, etc.?
SEO Positioning: Do you occupy the first positions in Google, are you generating organic traffic, what words are positioning your website?
Social networks: How often are they updated, what type of content do you share, how much does your audience interact with?
Email marketing: If you already have an email marketing strategy, analyze the number of subscribers, the best campaigns, open rates, click rates, cancellation rates, etc.
Online advertising:  Here you can take a look at the metrics on Facebook ads, Google Ads, LinkedIn ads, cost per lead, budget, etc.
Web analytics : If you already use Google Analytics, you can analyze the traffic of visits to the website, most visited pages, pages with more exits.
SWOT analysis
The SWOT matrix is ​​a tool that allows us to diagnose the internal and external situation of our company in 4 variables: Weaknesses, Threats, Strengths and Opportunities.
As it is a planning method, it allows us to formulate strategies to take advantage of the opportunities detected, as well as to be prepared against threats and weaknesses using our strengths.
Weaknesses: Weaknesses (where can we improve? What can we do wrong? Etc.)
Threats: How the environment affects us (what do my competitors do, can any change affect the development of the business? Etc.)
Strengths: Everything that makes us competitive (what are the company's greatest advantages? What do we do well? Etc.)
Opportunities: What we can take advantage of in the environment (growth of the sector, new technologies, interest rates, etc.).
Here you can take advantage of the previous point to add the analysis of digital assets to define strategies that allow you to improve your digital presence.
Step 3 – Identify your target market
We consider this to be one of the most important points in creating a digital Marketing plan , and it is a point that most marketers tend to take lightly or ignore.
To identify our target customer, we use the buyer persona methodology . Let's see what it is about below.
Buyer personas are a semi-real representation of your ideal client based on real data and information from your current clients. The buyer persona methodology is used to better understand your ideal clients in order to develop more effective strategies taking into account some characteristics of our clients such as:
Demographic profile
Behavior
Needs
Specific concerns and problems
Identifying your ideal clients will allow you to guide all your efforts with great precision, saving time and money to define objectives and strategies that can be achieved.
Step 4 – Define objectives in the digital field
The fourth step in our digital marketing plan is to define the objectives that we want to achieve in a certain time. Marketing goals should be 6 or 12 months maximum.
SMART objectives
To define the objectives of our online marketing plan , we are going to use the SMART methodology. These objectives are characterized by being effective or intelligent, allowing us to follow some guidelines to define them correctly and to help us achieve what we want.
Specific (S): The objective should be as specific as possible. Anyone who knows your goal should know exactly what you intend to achieve.
Measurable (M): The objective must be measurable, so it must be a quantifiable goal.
Achievable (A): Must be ambitious and challenging, but achievable.
Relevant (R): It must be important for the company so that it works to achieve it.
With a defined time (T): With a defined time horizon to be specified.
Types of objectives in your digital marketing plan
We can define digital marketing objectives taking into account the conversion funnel , that is, defining objectives that go from the stage of making your company known, attracting prospects, to converting them into your company's customers.
Example of objectives in your marketing plan
Attraction: Reach 3,000 monthly visits to the website through any medium by June 30, 2021.
Conversion: Increase the conversion rate to 20% by June 30, 2021.
Sales: Sell ​​to 30% of the leads in our database by June 30, 2021.
Loyalty: Achieve by June 30, 2021 that 40% of our customers make buybacks of our products.
Once the marketing objectives have been set , it is important to define the KPIs (Key Performance Indicators) to be able to measure the progress of the objectives.
Step 5 – Define an Action Plan: Marketing Strategies and Tactics
Once we are clear about the objectives we want to achieve and our buyer persona, it is time to define the strategies and tactics to know which path we are going to follow.
First, let's clarify that strategy and tactics are not the same. Let's see the concept of each one.
The strategy: They are made up of a set of applied tactics whose purpose is to achieve the defined objectives.
Tactics: They are a set of actions that are intended to implement what is established in the strategy.
Some strategies that you can define for your digital marketing plan are:
Social media strategy.
Content strategy.
Strategies in paid media.
Web positioning strategy.
Among other.
The strategies you choose will depend on the situation of your company and the budget assigned to the digital marketing plan.
Examples of strategies and tactics
Suppose we have defined our objectives, and we are going to plan the strategies and tactics to achieve them.
Objective 1: Increase the number of visits to the website by 15% for the next 3 months through organic traffic.
Strategy: Content Strategy
Tactic: Create a corporate blog with topics that are of interest to our audience and have a good volume of searches.
Objective 2: Generate 1,500 leads from any online source for the next 3 months.
Strategy: Content Strategy
Tactic: Use downloadable formats like guides, ebooks, templates, or a webinar.
Tactic: design a capture page with an attractive design so that they leave us their data.
Strategy: Paid media strategy or digital guideline
Tactic: Design campaigns with paid ads through facebook ads and instagram to accelerate lead generation.
Step 6 – Calculate the budget of your marketing plan
Defining the digital marketing budget is one of the most important steps for your online marketing plan.
Once we have clear the information about the company, the objectives, the strategies and the tactics, it is very important to define the budget for the marketing plan since you must ensure the resources to execute the defined strategies.
Executing marketing strategies cost money, and here you should keep in mind:
The company's marketing team
The budget for online advertising
And the marketing tools that will be used
You must bear in mind all the variables so that all the actions within your digital marketing plan have a defined budget , and thus, you can develop your strategies without problems.
Step 7. Measure and analyze
All the actions of your digital marketing plan should be measured to know if you are really meeting your objectives. For this reason, use the data provided by each platform and analyze them. It also defines how often you will evaluate the performance of the campaigns.
Conclusions
It does not matter if you are a large, small, new or established company. If your company is already on the internet or you want to take that step towards digital, you need to have a digital marketing plan to have results.
Making a digital marketing plan is a job that can be boring and overwhelming, but it is worth it.
To develop it, you need three basic aspects: knowledge, time and dedication. If you do not have any of these aspects, it is best to hire an agency specialized in digital marketing. An agency has the necessary experience to carry out your plan.