We come from a year where Google news and algorithm updates have played a vital role in SEO everyday life.
As we all know, Google updates its algorithm every week, but there are always one or two updates that mainly shake up the SERPs and get news above the rest.
In this year, the main updates took place in March and June, but we are also aware of many other developments, such as the labeling of the pages not being taken into account by Google or the publication of the Robots.txt code, with removing techniques such as using "No index" in this file.
You could say that all these developments in the SEO industry differ slightly in the way of acting in certain situations, but it does not radically change the landscape we face in 2020.
So, in this article, we gather a number of factors that, while we already know that they have started working in many industries, will play a critical role in 2020.
What are the SEO trends for 2020?
SEO Trend 1: Process Automation
It is increasingly common to attend conferences or events where the main theme is SEO and join meetings and attend presentations where different possibilities are discussed when automating day-to-day processes.
We are talking about routine processes such as debugging our websites, monitoring all kinds of results, initial keyword research processes, results reporting, etc.
These processes require a significant investment of time which, if we could save ourselves through automation, we can devote ourselves to better strategic planning or changing the application.
With a little imagination and with the support of a development department to generate scripts and functionalities, process automations can be performed that will ease us from day to day and allow us to dedicate our time to really important tasks.
SEO Trend 2: Artificial intelligence applied to SEO
It may be too early to speak in general terms about using artificial intelligence on SEO, but the truth is that those SEOs most interested in these types of trends are already applying them to improve your results.
Google has had to use these types of artificial intelligence and machine learning techniques for several years, especially since the implementation of Rankbrain in 2015, but now we're referring to its application by SEOs.
Artificial intelligence can help us optimize certain positioning factors, in particular those aimed at ensuring an optimal user experience , based on learning based on historical data that represents user behavior on our site.
SEO Trend 3: Voice Search
Voice Searches has become a classic of these types of articles where the SEO trends are collected for next year, but the truth is that they don't finish as a fundamental aspect in an organic positioning strategy.
The arrival of voice assistants for the home has been added to the standardization in the use of virtual assistants such as Android, Cortana or Siri. With this disruption, these kinds of searches have multiplied and we assume a new trend in the search for information, very different from what we were used to.
This explosion of voice search is completely changing the way SEO is done.
On the one hand, the resolution of the user's search intent immediately becomes vital. Comparing it to the traditional way of performing a search, the way the search is performed for the same answer is expanded significantly and the semantic context in which the keyword fits is further expanded.
So, in order for SEO to work to drive traffic from voice search, we need to quickly and clearly resolve user search intent, help us flag data with Schema or JSON-LD, have content properly structured and, for local searches, work with local SEO.
SEO Trend 4: SEO for JavaScript
It's proof that mobile device traffic has been invading computer traffic for years, far outnumbering it, and monopolizing all of the attention.
For years we have talked about a transition to responsive web designs, improvements in loading speed and optimization of web performance in these types of devices.
However, we are on the way to improving the user experience in terms of speed and load: the new progressive frameworks developed in JS that serve dynamic content, eliminating the loading processes that take place when navigating between the different parts of a website .
For Google, it has become a priority to develop display systems that allow you to perfectly track this type of website developed in JS, so everything indicates that it will not take long to consider this type of development important.
In early May, Google announced the update to the rendering engine performed by Googlebot, switching from using Chrome 41 to do this with Chrome 74.
This update is a major step forward in properly crawling content and ending the drawbacks of the websites developed in JavaScript when posting them to Google, so with this update, official Google resources are ensuring that bots can render content in the same way as browsers, but they still need to make these processes perfect.
On the other hand, other search engines cannot even properly render these websites yet, but sooner or later they have to follow the line marked by Google, the leading search engine leader in Europe.
So, one of the main trends for SEOs in 2020 is catching up with SEO applied to these types of programming languages.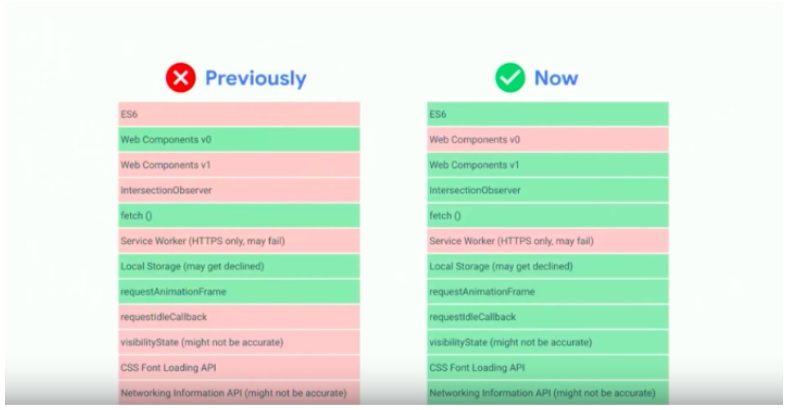 SEO Trend 5: Structured data
While it has been a factor to consider for a long time, the use of structured data has become indispensable when information is presented for processing by Google in an organized manner.
Plus, over time, Google offers new options when it comes to data tagging, so we can see it as an opportunity for certain industries or types of websites that were unable to use it until now. Google provides its own Structured Data Marking Assistant where we can manually select the elements we want to mark and we will obtain the HTML code to integrate into our website.
The latest development in highlighting structured data is the inclusion of a new option for highlighting FAQS sections or FAQs.
Obviously, this option is for trying to appear in the snippet that Google provides in the SERPs before an informational search with a list of answers to frequently asked questions obtained from the websites themselves.
Obviously, using this kind of structured data offers visibility benefits. Maybe not at the rankings of the rankings, but when it comes to drawing more attention to search results with prominent snippets or rich snippets. In addition, this type of data marking provides information to Google so that its use is appreciated.
On the contrary, we could say that we are 'feeding the beast' and it is likely that this will gradually turn against us.
Google's ultimate goal in this aspect is to show its own rich results that resolve the user's search intent without leaving the SERPs, so we are facing a potential loss of traffic that will grow over time as Google doesn't seem to settle for a small fraction of informational searches.
SEO Trend 6: Local SEO is becoming more important
In October of 2019 , Google reported that there are 350x more searches than ten years ago on 'local' and 'near me' in combination with short tail keywords.
This is partly due to the rapid rise of mobile use, driving a whopping 500% growth for 'near me' terms in just a few years.
People know better what they want and / or how to use search engines to find what they want. By focusing on local SEO you ensure that you are found as soon as your target group starts looking for the services or products you sell.
Tips for local SEO
A few tips:
Include name and address details on your website. Add your contact and address details to (the footer of) your website and contact page.
Don't have a Google My Business page yet? Make this as soon as possible, fill in all information and optimize. That's how you do that .
Search for (and create content for) keywords in combination with where your company is located. For example 'Lawyer Amsterdam' or 'Plumber Den Bosch'.
Generate local citations . In other words: online listings of your company with associated contact and address details.
And of course link building. Generate links on relevant external web pages. For example, if you are a plumber in Den Bosch, try to get a link in articles with titles such as 'The 20 best plumbers in Den Bosch' .
Would you like to learn more about local SEO? Then read this excellent guide from Ahrefs full of tips and explanations.
SEO Trend 7: The SERP is getting busier and busier
Moz's Rand Fishkin already warned us about it in 2018: the SERP is getting busier!
In short, he says that Google tries to keep its users on the SERP and answer their questions directly there. For example in the form of a featured snippet . And above that are of course one to four advertisements …
Others also see this trend. For example, research from Jumpshot shows that more than 50% of all searches do not result in a click.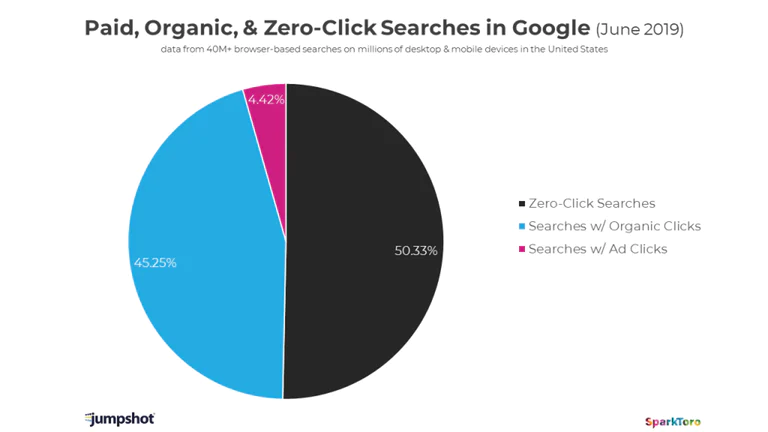 The trend is clear: Google prefers to help its users by answering their questions directly on the SERP. With new developments, such as the display of FAQ and answers below a result (see trend 4), it is expected that this trend will only continue in 2020.
Fortunately, there are also ways to respond to this. The advice is to no longer focus on queries that can be answered in one sentence in 2020. Focus on questions that you can talk about long and extensively. Like the 2020 SEO predictions… ?
Forget SEO tricks, go for quality
So far the trends and forecasts for 2020. Once again the most important developments in a row:
Google knows how to answer search questions (even) better.
Focus on quality.
Mobile is (even) more important.
Google will try to answer more questions directly on the SERP.
Forget about SEO tricks, but go for quality and a sustainable partnership with Google in 2020. Don't think in terms of quick wins, but invest for the long term.
Research which questions are relevant to your target group and give the best answer possible, written in natural spoken language. Create a fast page with a nice design, a great user experience (both on desktop and mobile) and use structured data to give Google a hand.
Conclusions
In short, we can bet that these 4 key aspects we are talking about will clearly drive the SEO trends for the next year 2020. In addition, they are clearly related areas, especially between cases of process automation and the application of artificial intelligence to SEO, as well as between content tagging with structured data and voice search.
And you, what do you think are the most important aspects of SEO in 2020?