When you write SEO texts, you want to score in Google, right?
In this article you will discover the latest SEO copywriting techniques.
The techniques with which we sent more than 27,769 visitors to the website every month in April 2018 and increased them to 38,555 visitors in November 2019. That is more than 120,000 extra visitors per year .View the visitor numbers
You will also discover THE SEO technique  for scoring on hundreds of keywords at the same time, with only 1 page:Check out the example
Before you touch your keyboard and write your next SEO text, I recommend that you be patient until you've read and discovered this complete article:
What is the easiest optimization strategy (not used by others)
How many keywords your SEO text really needs
How to write SEO texts with the focus on your customers
How to score on hundreds of keywords simultaneously with the TMZ method
Are you ready for these tips for better SEO texts and more?
Read on quick.
Before you start with your SEO text …
Are you writing for Google? Or do you want to achieve a completely different goal with your search engine friendly text?
Although it is important that your web text is well optimized so that Google gives you the best position , the most important thing about an SEO text is not what Google wants, but…
What your customers want.
Before we move on to the most important elements to make your web texts search engine friendly, I would like to discuss your customers together.
To ensure that your energy and time is rewarded and that your texts not only get a nice position in Google, but also actually generate customers, I want to reflect on your needs group.
"My need group?"
Yes, this is a group that is put together by getting deep into the brain of your customers. It's like a kind of focus that goes deeper than a target audience or buying persona.
Why a needs group is important to your success in Google
Composing a needs group is a difficult task. A need group goes much further than a target group. If you want to clearly map out your needs group, ask yourself the following questions:
What result does my product or service offer?
Who are looking for that result?
What situation are my customers in before they feel the need for that result?
What problem do people have that they are looking for a solution for?
What's the real need behind that problem?
Before you start writing SEO texts, I advise you to first map out your needs group.
Believe me, this is a very determining factor for your success.
Smart SEO copywriting is, in my opinion, not aimed at Google, but at your customers.
Now let's look at how we find out your needs group.
Create your needs group and find out the buy button of your customers
So, and …
Is your needs group clear?
Have you mapped the buy button of your customers?
I know you are eager to start actually writing your SEO content.
Have a little patience.
Believe me, this patience will be richly rewarded.
Before we continue, I would like to get rid of some clichés and myths. This ensures that you finally get answers to all those questions you still have and …
You will finally know what DOES and especially what does NOT work.
To start, let's answer the pressing question everyone has: How many keywords are needed for the perfect SEO text?
How many keywords does an SEO text need?
Writing SEO texts is more than combining a number of keywords in the hope that you will be found well. If you want to score well with your SEO text, you need to speak the language of your customers.
Sounds like a cliché?
Perhaps. Yet I still see web texts that are stuffed with keywords and then also the wrong keywords.
And…
I am regularly asked how often your keyword should appear in the text to ultimately score well.
Of course you want to take into account the keywords that are often searched for and you want to be found with your text on as many keywords as possible.
But…
Is that an invitation to stuff your text with keywords?
Believe me, there is a better way.
Focus on your customer. Write for your visitor, optimize for Google.
I will explain everything to you exactly how you do that. But before we can start optimizing, we first need the right keywords.
How do you find the right keywords for your SEO text?
Google is the only one that has keyword data. That's why everyone starts with Google's keyword planner or another similar keyword tool.
Google has valuable data, but not the right data for your SEO text.
The only one who has that data is you.
Use your common sense.
No matter how well those keyword tools work, you can do much better with your creativity and industry knowledge.
Try it.
Think about all the possible problems your customer faces. Consider your needs group and use common sense first.
A keyword tool is a great tool, but trust me, you can do it better. Make sure you focus on quality and finding the best and brightest keywords.
How do you find the best and smartest keywords?
Let me give you one more example to show you that you should always use common sense.
Suppose you sell razors.
Which keyword do you want to be found on?
Shave?
Shaver?
Both seem like a smart choice.
Shaving that is searched for 1,900 times a month and Shaver that is searched for almost 16,000 times a month.
Which keyword should you choose best?
I hope you don't make a choice at all.
The real smart guy chooses a different keyword.
A keyword where everything becomes clear at once …
A keyword that makes visitors buy.
If you want to write smart SEO texts, use the right keywords. Choose a smarter strategy than your competitor, score easily and get a lot more visitors ready to buy.
SEO text that is smarter than your competitor
If you've already set a goal for your web copy and you've had the patience to save yourself from the myths and common mistakes, you're already doing it smarter than your competitor.
But…
We will go a few steps further.
After all, you don't want to compete, but dominate.
However?
How do you Dominate in Google?
By being smarter than others.
How are you smarter?
Think about your customers and use the best tool you have: your common sense.
Suppose I order you to sell vegetables. You can place your booth in one of three different places:
The market, with five other vegetable stalls.
A health fair where they talk about the effect of eating vegetables on your health.
The Amsterdam Arena during an Ajax vs Feyenoord football match.
Where do you want to be?
At the stadium, where thousands of visitors walk?
In the monthly market?
Or would you rather speak to your customers at the health fair?
I hope you'll agree that you'll sell most of the vegetables (in all probability) at the health fair.
Why?
You may get fewer visitors to your booth, but the visitors you get are at least visitors who are interested in the theme of your product and you have fewer competitors.
While it all sounds very logical, it seems like we approach it very differently online.
Instead of looking at where we can best place our booth, we choose the place that attracts the most visitors.
Because …
A lot of visitors means a lot of customers.
Because many of your competitors have that thought and opt for the masses, there are opportunities for you.
Great opportunities.
For example, there are always holes to be found on the internet.
Places where your booth might get fewer passers-by, but just as many customers.
Sounds good?
Then let's see how we find the holes in the market.
A keyword market research that beats your competitors
If you want to be found in Google in this time, you must also adhere to the rules that currently apply.
SEO has not been what it used to be for years. And since the Google Hummingbird and Rankbrain, the game has (finally) really changed.
RankBrain is used by Google to better understand search queries. The RankBrain also helps in determining the place that your SEO text will soon receive.
Search engines use hundreds of signals that are put together in an algorithm.
This algorithm weighs the information and factors and then determines which website deserves the best position.
Previously, the keywords, technical aspects and especially the backlinks were important for your position.
Nowadays an important factor has been added.
The relevance.
How does Google determine relevance?
Where Google used to look at the keywords, nowadays it looks at the intention and relevance.
What does the seeker mean?
What information is this person really looking for?
Google will use more and more data for this. Think of your search history, the information in your Google account and the experiences on the page of other searchers.
Determining the relevance of your SEO text with the information sought by the searcher is a learning process and Google will keep getting better at this.
As difficult as this may sound now, there is a huge benefit behind all these changes.
There are opportunities for the taking that even Google hasn't even found yet.
Millions of unknown keywords per day
Fifteen percent of all searches are unknown even to Google. That means that more than 450 million keywords are used per day that Google has never seen.
If Google has never seen these kinds of keywords, it has therefore not yet mapped search volume.
If you do not use your common sense, but just like everyone else a few keyword tools for your market research, you will miss enormous opportunities.
What are the consequences of all Google Updates for your SEO texts?
Google is finally smart enough and will only get smarter to value a text instead of using the number of keywords or backlinks scored .
Google understands that a piece of wood for nails is the same as a hammer, or a yellow protection for your head is the same as a construction helmet.
Is this the end of the keyword era?
Not yet, although you will no longer get away with a few simple keyword research.
The better you map the market and speak the language of your customers, the better (and easier) you will score in Google.
What are other useful techniques to find the right keywords for your SEO texts?
Stealing keywords from your competitors
Great when others have done all the work for you. There are several ways to find out your competitors' keywords. Later I will teach you how to strategically incorporate keywords into your web texts.
First, let's see how to steal your competitors' keywords.
If you want to use the keywords of your competitors for your keyword research, you will achieve this in three steps:
List the top 10 in Google that rank for the keyword your SEO text is about.
Research the relevance of the websites.
Export the keywords and complete your own research.
Are you ready for it?
Let's start by making a top 10 .
Make a top 10 in Google
Enter the main keyword (seed keyword) in Google that you would like to be found on. For this text I can enter 'SEO text' or 'write SEO texts' in Google, for example.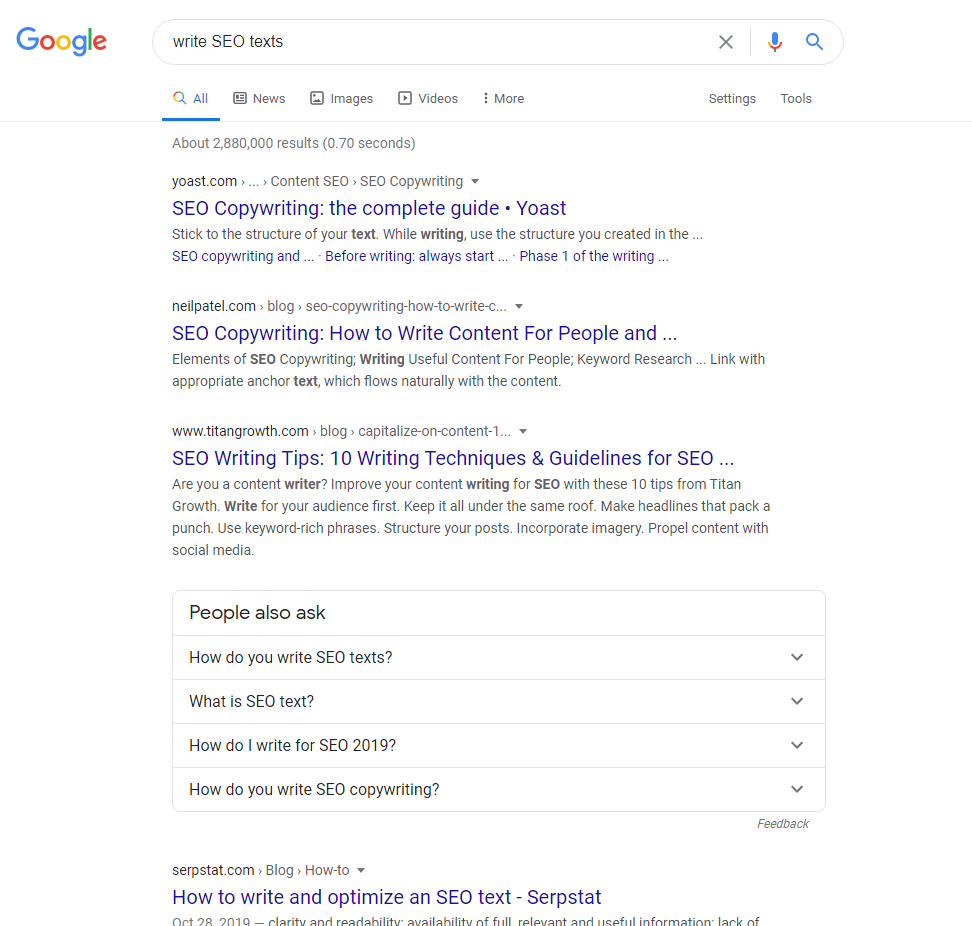 View all pages that are already in the top 10.
If you come across interesting keywords, copy them to a notepad or a Word file. You can investigate this further later.
Also copy all URLS from the websites so that you can use them for the next step.
Discover the keywords of your competitors
Go to SemRush or Ahrefs and paste the link of the website you want to analyze.
Do you see that this page scores on 68 keywords?
Do this with all of your competitors' pages and make sure to export each result so that you end up with a complete database of keywords.
Have you identified the keywords of your competitors? Then go one step further.
Believe me, the more research you do, the better the result will be.
Have you stolen your competitors' keywords? Then research the voice commands in Google to take into account the Voice Search SEO.
A keyword voice search (SEO) research
The rise of voice search is increasing at a rapid pace.
Thanks to the virtual assistants such as GoogleNow, Siri and Cortana, we have been used to talking to our mobile phone without anyone on the other end of the line for a long time.
The share of voice search searches continues to increase and voice search has now managed to conquer a 10% share of the global search volume.
That equates to 50 trillion searches per month.
This way of searching also means that we have to use new ways to optimize our texts.
I will give you some tips later on how to optimize your texts for voice search. First, let's see how you can easily find out the voice search keywords.
How do you find out the voice search searches?
First of all, of course, you use your common sense. You know your industry best. Write down as many questions as possible that your customers have. What do they want to know? What questions do they have? What problems do they run into?
Have you already made a nice list yourself?
Then use the following keyword programs to further supplement your keyword list.
Keyword Programs for Voice Search Keywords
Use Answer the Public
Use Keywordtool.io
Have you made a nice list?
How do you choose the right keywords for your SEO text?
How do you choose the best keywords for your web texts?
Before you can make a choice for the best keyword, you first need the right information.
When you look at your keywords, what would you most like to know about them? If you ask me, you want to get at least an answer to the following questions:
How often are they searched?
What is the intention to buy?
How strong is the competition?
How do I find out the search volume of a keyword?
You can use numerous keyword programs to find out the keyword's search volume. Whatever program you use, all data comes from Google.
Google is the only one who knows the search volume, so why not use the program from Google directly?
To use Google's Keyword Planner you need a google ads account. 
Discover the buying intent of your keywords
Now I have already revealed that with your common sense, you will leave most SEO gurus and competitors behind. Yet there is one more step that determines whether you will really succeed with your Google-friendly texts.
The one piece that is so important to your marketing: the customers.
When I started around nineteen, I had numerous websites (for affiliate marketing ) that generated more than 40,000 visitors per month.
What did I earn?
A few hundred Dollars a month.
Yes, I got a lot of visitors. Only on the wrong keywords.
What matters to me is that you want to use keywords that are searched for. But this is not the most important. The most important thing is that you will soon get more customers.
How are you doing this?
A – Use the words that turn visitors into customers
Keywords that generate extra sales can be divided into two categories. Where possible, add extra words to your existing keywords to give them extra sales power.
Which words can you add?
B – Steal and learn from advertisers and use the best keywords
Suppose you pay eight euros per click. This means that each visitor costs you eight euros. When is this strategy effective?
If you earn more than eight euros per visitor.
Now we can test and map how much you earn per visitor. But why not just use the data that is already available?
To see what an advertiser is willing to pay per click, look in your Google Keyword Planner for the 'suggested bid'.
You see that an advertiser wants to pay an average of just under four euros per click for the keyword 'SEO texts'. Are they all stupid advertisers, or is this keyword apparently generating sales?
Keep using your common sense, but also keep learning (from others).
We are getting closer to actually writing, later you will discover how and where you place the keywords in your texts so that Google gives you that one beautiful spot.
But…
Before we can choose which keywords to target, we miss the last step: the competition.
How do I find out the competition for my keywords?
You want your web texts to be found well, so it is wise to take the competition into account. But……
Often it means that if a keyword has little competition, it is a keyword that you should skip. How do you find the best keywords and how do you find out about the competition?
The most important element that you can optimize for a good position in Google is the title of your page.
I will explain everything to you later on exactly how you do that.
If you find out how many websites in Google's database have your keyword in their title, this gives you a good indication of how strong your competition is.
To find out the competition based on title, use the following search term in Google allintitle: your keyword.
We have developed a complete formula ourselves to map the difficulty score of a specific keyword. The difficulty score shows you exactly how difficult it will be for you to be found for that keyword.
To map this score, we look at all important factors:
How well are the pages of your competitors optimized;
How much link value has the page built up;
How many on-page optimization elements do they apply;
How much link value has a complete domain built up.
All these factors give a certain score and this together determines the difficulty score.
Before we start writing for SEO or even the optimization of a website, we first create a keyword success scheme.
This scheme contains numerous handy filters and all the necessary data to make strategic choices.
Now you can of course also follow the SEO Tips to collect even more data.
We have now done all the preliminary work. The time has finally come.
We will start writing and optimizing your texts.
Are you ready for it?
Let's start.
How do you write the perfect SEO text?
What makes normal website text SEO text? How do you ensure that your text is found properly in Google? How often do you have to name a keyword? Are 2000 words really necessary to be found correctly? How do you make sure you do everything right while Google keeps changing?
We're going to cover it all.
In this chapter you will discover the most important optimization techniques that will take you higher in Google.
The most important elements to score well in Google
Although many SEO copywriters and SEO consultants speculate that there are 200 factors that determine whether you will score well with your website, in practice we see that the following elements are especially important:
A search engine friendly and catchy title
A sharp meta description
Tantalizing SEO Headlines
A catchy SEO title
When a searcher places a search query in Google, he will be presented with different search results. Hopefully your website will be among those search results. How does the searcher determine which search result he / she clicks on?
Do you want more visitors and score higher in Google?
Then let visitors click.
Always include your most important keyword in your SEO title, but also pay attention to the click behavior of your searcher.
Make sure your title is catchy and that you invite searchers to click on your website.
This has two main reasons.
If the searchers don't click, you won't get any visitors
If the searchers do click, Google increases you
Increasing your website because visitors click on your website has everything to do with CTR.
What is CTR and why is it important to the success of your SEO text?
CTR stands for the Click Through Rate, the percentage that clicks through from the search results to your website.
The higher the CTR (so the more people click on your website), the more Google is convinced that you have the best information for the searcher.
If the user statistics show that your website is rated the most, what do you think Google is doing?
Exactly. It will rank you higher in Google.
How do you find out your CTR in Google?
Open Google Search Console . Click on search traffic> Search analysis and check the CTR option.
How do you increase the CTR in Google?
A better position in Google does not always mean that you also get more visitors.
Visitors still have to click first.
How do you ensure that searchers click and increase your CTR?
Provide the following parts:
A powerful and catchy SEO Title
A smart meta description
Did you come up with the title and meta description? Then let's take another look at the most important elements for good SEO text.
The most important elements to score well in Google
Do you remember them? These are the main elements:
A search engine friendly and catchy title
A sharp meta description
Tantalizing SEO Headlines
You've already read all about a search engine friendly title and a sharp meta description, now let's see how to come up with tantalizing SEO headlines.
How do you make search engine friendly headlines?
The headings in your text determine the structure. Think of it as a book. A book also makes use of titles, chapters, sections and sub sections.
Make sure you use the correct structure in your SEO texts. To make your web texts Google-friendly, it is best to use a few keywords here and there in your headings.
For the SEO headings you have the choices between:
H1 – Very important (can only be used once)
H2 – Slightly less important
H3 – Slightly less important
H4,5,6, etc.
Make sure you include your most important keyword in your H1 headline and pay attention to the stimulus level. Again, you need to keep the attention of your visitors. This only works if you stimulate them with the right cups.
You can see the H2 headings as sort of chapters. The H3 and H4 etc are again intended for the paragraphs and sub-paragraphs.
So you can see that I have put the sentence "This is how you create the best SEO texts without robot language" in the H1. The "How to find the best keywords for your SEO text" in the H2 and "3 Useful Keyword Programs" in the H3.
By making clever use of the H1, H2 and H3 I link the different text blocks.
Suppose I described it differently.
By placing the "3 useful programs" in an H3, it is clear to both visitors and Google that this is about the H2 headline "How do you find the best keywords?".
So think about a good structure for your SEO text and don't put all your headlines in the H2 because they just happen to get more value from Google.
You have the correct title, meta description and now also determine the headings for your website texts.
Now it is all about the content. A much-discussed question when it comes to SEO copywriting is how many words to use now.
Let's answer this question once and for all.
How many words do you need to get high in Google?
When it comes to SEO web copy, how long should the text be?
300 words …
500 words …
2,000 words?
NO!
Your web text only needs one length …
* Drumroll *
Your text becomes valuable because of the content, not the number of words. So how long should your text be?
As long as it takes.
For example, calculatehet.nl scores with a single 1 page on more than 1.4 thousand keywords. Keywords that are searched for more than 50,000 times per month on average.
The number of words?
120.
Do not write your web texts on the number of words, but on the added value for your visitor. And YES, the more value you add, the better your position in Google will become.
By writing your SEO texts as if everything depended on it, you automatically create a lot of value. Rather write a complete article in which you share all the value, instead of many small articles.
How do you write better SEO texts, with the right number of words? Write them for your visitors.
This way you write for a visitor and you will be found well
What is the language your visitor speaks, or rather what keywords are they using? What does your visitor type in to find your web text?
Sometimes the articles that people throw on the internet don't make me feel good. Or worse, texts written by so-called SEO copywriters who understand your niche
Very nice when your text will soon be found well, but isn't it much more important that you offer your visitors value?
Your visitors determine in less than two seconds whether they stay on your website.
A text that is purely aimed at SEO, and not on the informative value, will not only score badly with your visitors, but (ultimately) also in Google.
Google knows when an article offers no value to visitors. If you finally have a good position in Google with your SEO text and visitors return to Google within seconds (after they click on your website in the organic search results of Google), Google will not find any reason to give you any longer the position you have now.
All of this has to do with your Dwell Time . In my opinion, the Dwell Time is the most important (and the most forgotten) SEO factor that determines your position in Google.
A little further on the content.
Strong SEO text is more than a page full of words. A web text that is written for visitors and that is intended to get high in Google cannot make it with just words.
Writing for Google is not only done with text!
Good SEO text is more than just text. People who read texts on the screen are lazy and prefer to be entertained with additional media. Think of images , videos or possibly sound fragments .
The richer you make your text, the more valuable forms of information you add, the more it will be appreciated by both Google and your visitor.
Search relevant videos on YouTube, post figures or facts via the CBS surveys, or use Pexels and Pixabay to find beautiful images.
Also think about your design. Pay attention to the design and consider applying SEO not only to your blogs, but also to your landing pages .
You have now really mastered the basics of SEO writing. Now is the time for the advanced techniques.
Now it really starts to get fun.
In the next chapter, we'll cover advanced SEO copywriting skills:
3 Advanced SEO Copywriting Skills
There are few things you can do for a higher position in Google that take as little time as the techniques I'm about to share with you now.
It is such a shame (and perhaps only better for you and me) that these techniques are used little or not at all.
Everyone is talking about keywords, backlinks, social media , google ads , but nobody is talking about your DT standard.
Funny, because it does determine your position in Google.
SEO copywriting technique 1: Writing for the DT Standard
SEO copywriting technique 2: Use the TMZ Method
SEO copywriting technique 3: The ATC Strategy
What should a new article yield for you? Why are you writing the text? Do you want to be found in Google? Attract thousands of visitors to your website? Beautiful!
But what do you want to do with these visitors?
Do they have to subscribe to your newsletter?
Tell all their friends on Facebook about your company?
Or buy your new online marketing course ?
Without asking yourself what exactly you want to achieve with your SEO texts, your text is useless in advance. You might as well not be able to write text without an ATC strategy.
An ATC strategy (Aim To Convert) determines what you want to achieve with your article. What should every visitor do after reading the text? And how are you going to ensure that?
With the ATC strategy.
Get more revenue from your SEO text
In the last step of your article, you think about the call to action. What do you want your visitors to do?
Do you want them to leave a comment, share your message on social media or buy your product or service?
End any SEO text with a follow up action. Think about what you want from your visitor. For example, use one of the five smart closing techniques.
5 Smart closing techniques for all your SEO texts
1. Opt-In Form
2. Leave a comment
3. Share on Social Media
4. Promote Product
5. A Combination
How do you promote your SEO texts?
For a better position in Google, Google must know that you have written SEO text. If your website has been around for a while and you have already built up some value, then your new SEO web text will reap the benefits.
If your website has not existed for very long or has not yet built up enough value, ensure that your text is well promoted. You do this by bringing your article to the attention of your network, other websites and influential people.
If you manage to be listed on other websites, you will experience that your cherry-reserve SEO text immediately shoots up in the search results.
You will learn how to easily bring every SEO text to the attention of thousands of potential customers without much time in the SEO training course .
In addition to promoting your SEO text on other websites, you can use your own website to vote yourself up.
How that works?
Read on and discover the power of internal link building.
SEO texts and the power of internal link building
Writing good SEO text takes time. Time that must be recouped. There are plenty of SEO hippies who say that writing good blogs is enough to rank well. Sorry, but your website needs value to rank well. Registering with the Chamber of Commerce is also not enough to get customers .
Good content alone is not enough.
If you put a lot of time into your web text, make sure you get everything out of it. How do you do that? Help your other web texts via internal links. Any web text can build values ​​and pass them to other web pages.
When you link to other pages while writing your SEO texts, you automatically pass on value. If your SEO text builds value in the future, it directly helps (via your internal links) to the complete findability of your website.
So.
You came all the way here. Time for a high five as far as I'm concerned.
You really got enough tips and techniques to write the best SEO texts and the best of all?
You read it to the end.
But…
Don't leave yet. Do you really want results with your SEO text? Incorporate it into your online marketing strategy .
Including SEO texts in your online marketing mix
Many people who start with search engine optimization , in whatever form, sooner or later encounter the same problem: no desired results and a lack of discipline. And to be honest, I don't think that's surprising.
When I started with online marketing , all gurus drove me crazy. My savings and free time were spent on courses, books, seminars, training and a lot of testing. I have gone on my record often enough.
It has now been more than thirteen years since I started and I have read, heard and experienced enough.
Although I have learned a lot over time and luckily still do, I see many entrepreneurs making the same mistake.
Although I believe you can learn from anyone, I would like to warn you. Choose one strategy, work it out, give it time and persevere. Monitor your results via Google Analytics and see for yourself what works and what doesn't.
Are you running out of time?
Then work more productively and don't give up too quickly. Especially when you start writing SEO texts, you are in the danger zone.
Writing texts takes a lot of time and can cause some irritation. Especially when you are dealing with writer's block .
Nevertheless, SEO texts can generate a lot of visitors and a lot of extra customers through the right strategy. Have I made you enthusiastic about writing SEO texts and do you not feel like taking thirteen years to collect all the knowledge?